Most mortals turn away from the darkness that preys upon them, going about their lives in despair of the Damned and the evils they visit upon the world. But a precious few wage a personal war to shine light on those shadows and diminish them, like solitary candles shining in the night. The path of the hunter is lonely and fraught with danger, at once beset by the monsters they hunt and looked upon with suspicion by their fellow mortals they thanklessly seek to protect.
Nine new short stories chronicling the hunters' trials of the night, including original works by Richard Dansky, Bill Bridges, Jess Hartley, Natasha Bryant-Raible, Jason Andrew, Sarah Roark, Alan Alexander, Matthew McFarland, and Edward Austin Hall.
Of Predators and Prey: The Hunters Hunted II Anthology
is available now in eBook and Softcover editions at
DriveThruFiction.com
!
23.07.2014. 08:17
Rivendell! This setting supplement will take your One Ring adventures West across the Misty Mountains to the Last Homely House, expanding play into eastern Eriador, covering not only Rivendell itself, but Angmar, Fornost, Mount Gram, Tharbad and everywhere in between.
There are also rules for creating your own Magical Treasure; playing Rangers of the North and High Elves of Rivendell; turning the baleful Eye of Mordor on your company; and facing more powerful adversaries than ever before.
Rivendell
is written by Francesco Nepitello, with additional contributions from Amado Angulo, Shane Ivey, Andrew Kenrick, Marco Maggi, Thomas Morwinsky and James M. Spahn. It is lavishly illustrated by Jon Hodgson, Jan Pospíšil and Jeremy McHugh, with fantastic maps of Eastern Eriador created by Paul Bourne.
The One Ring - Rivendell
is available at
RPGNow.com
!
22.07.2014. 16:39
Christmas is coming, the goose is getting fat,
RPGNow.com
is where the discounts are at!
That's right,
Christmas in July
is here! Get 25% off of thousands of products by dozens of great publishers! Put the jingle bells on, and keep some jingle in your pocket, too!
Save 25% on PDFs from
Margaret Weis Productions
,
Goodman Games
,
Pinnacle Entertainment
,
Cubicle 7
, and dozens more!
For even more savings, visit
DriveThruCards
',
DriveThruComics
',
DriveThruFiction
's and
WargameVault
's summer sale pages!
22.07.2014. 08:58
EMBRACE THE SQUEE is the uber-geeky coloring book by John Kovalic (
Dork Tower
,
Munchkin
)!
In it you'll find dinosaurs, elder gods, kobolds, pirates and more, pefect for the child in your life, of the inner-child in you!
100% of the proceeds from the sale of this goes to charities - The Hero Initiative, and FairShare CSA Coalition!
Embrace the Squee
is available at
DriveThruComics.com
!
21.07.2014. 07:18
"Y'know, I didn't really understand what folks meant when they said no good deed goes unpunished, until I heard the story of Dory Brooker. You familiar? Aw shit then, pull up a chair. C'mon, buy me a round and I'll fill your ears with one helluva tale."
One year ago, a well-meaning citizen talked a mild-mannered accountant out of throwing herself off the roof of her apartment building. When that same citizen goes missing, the accountant looks for help in finding the man—not knowing just how many people want her savior to disappear for good.
SoB Stories #1
is a standalone scenario for use as a one-shot or to placed inside your ongoing
Streets of Bedlam
campaign.
Designed for use with
Streets of Bedlam: A Savage World of Crime + Corruption
.
Streets of Bedlam SoB Stories #1
is available at
RPGNow.com
!
20.07.2014. 09:00
Your boyfriend dumped you.
You've got exams first thing in the morning.
And the world's going to end at midnight unless you stop it.
Looks like another all-nighter with the study group.
Degrees of Horror
features a full-length Plot Point Campaign that takes the students from Freshman to Senior, and uncovers a mystery as old as the faculty themselves. The syllabus includes classroom intrigue, dark conspiracy, dusty mysteries from the past, killer exams, massive parties, and new horrors to torment the student body.
Degrees of Horror
also includes a full course-load of Savage Tales that work equally well with the Plot Point Campaign or your own epic saga.
Degrees of Horror
is a Plot Point Campaign for
East Texas University
. It requires that book and the Savage Worlds core rules to play.
19.07.2014. 13:32
Selected Stories and Essays Concerning the Blasphemous Tome of the Mad Arab
Although skeptics claim that the Necronomicon is a fantastic tome created by H. P. Lovecraft, true seekers into the esoteric mysteries of the world know the truth: the Necronomicon is the blasphemous tome of forbidden knowledge written by the mad Arab, Abdul Alhazred. Even today, after attempts over the centuries to destroy any and all copies in any language, some few copies still exist, secreted away.
Within this book you will find stories about the Necronomicon, different versions of the Necronomicon, and two essays on this blasphemous tome.
Now you too may learn the true lore of Abdul Alhazred.
The Necronomicon
(2nd Ed) is now available in PDF and Softcover at
DriveThruFiction.com
!
19.07.2014. 07:33
Crowdsourced & Crowdfunded
We asked creators, amateurs, and professionals alike to share new mechanics, settings, and entirely new games based on our popular Cortex Plus roleplaying games: LEVERAGE, SMALLVILLE, and MARVEL HEROIC ROLEPLAYING. An army of authors contributed their own ideas to the project, which we dubbed the
Cortex Plus Hacker's Guide
. Emboldened by a highly successful Kickstarter project and the investment of over a thousand backers, the Guide has blossomed into a fully featured sourcebook for all things Cortex Plus!
Cortex Plus … & YOU
The
Cortex Plus Hacker's Guide
gives you articles, essays, and three complete reference documents to bring action, drama, and heroic fantasy to your game table. From science fiction to school yards, from the end of time to the outskirts of imagination, the building blocks of your next Cortex Plus game are right here!
The
Cortex Plus Hacker's Guide
is now available in PDF, Softcover and Hardcover editions at
RPGNow.com
!
18.07.2014. 15:58
Action! Science! Robots! Punching! More Science!
Are you ready for some two-fisted science adventure? Then it's time for the
Atomic Robo RPG
! Have you ever wanted to face down global conspiracy as an immortal atomic robot or Carl Sagan? The
Atomic Robo RPG
makes it possible.
The
Atomic Robo RPG
brings you the most explosive Fate Core System experience yet. This is action science like you've never seen it before, coming straight at you from the pages of the popular Atomic Robo comics by Brian Clevinger and Scott Wegener. Play as an Action Scientist or immortal robot, super-spy or pulp adventurer—or something stranger still from the hidden corners of super-science!
This is multi-era, pick-up-and-play gaming at its best: get playing in ten minutes, or take your time and make the most of behind-the-scenes rules for added depth. Hop into your Tesladyne jet and travel the globe in one time period, or battle across the decades as a cast of scientifically talented adventurers. Face down demented dinosaurs, rogue government agents, and stolen Tesla-powered technologies!
Are you Action Scientist material? Grab your gear and get ready for full-contact, high-octane, explosive hypothesis testing!
Remain Calm. Trust in Science.
The
Atomic Robo RPG
is here!
18.07.2014. 08:59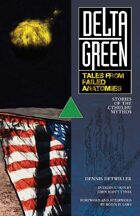 Delta Green: Tales from Failed Anatomies
is a collection of stories by award-winning author and game designer Dennis Detwiller.
These tales of cosmic terror and personal horror span the life of Delta Green, the desperate organization that Detwiller helped create: a group of men and women who have seen the awful truths of reality and struggle to keep those realities at bay as long as they can.
Introduction (by John Scott Tynes)
Foreword: The Alien Thoughts, Part 1 (by Robin D. Laws)
Intelligences (1928)
The File (1942)
Night and Water (1944)
Dead, Death, Dying (1955)
Punching (1964)
The Secrets No One Knows (1968)
Coming Home (1974)
The Thing in the Pit (1977)
Drowning in Sand (1981)
Contingencies (1984)
Philosophy (1993)
Witch Hunt (2015)
After Math (20XX)
Afterword: The Alien Thoughts, Part 2 (by Robin D. Laws)
Delta Green: Tales from Failed Anatomies
is available in eBook and Hardcover editions at
DriveThruFiction.com
!
17.07.2014. 10:32